myhomehelper is a tablet computer that has been specifically designed for people who struggle with modern technology. It helps to reduce anxiety and isolation and gives peace of mind, reassurance and confidence to family and carers.
Developed from ideas and feedback given from service users and carers in trials over a 4 year period, the user centred design ensures that it is ideal for people with no computer or IT experience and requires no interaction from the user for it to work.
The myhomehelper display
The myhomehelper display is a tablet that has been designed to run optimally from the moment that you turn it on requiring no user interaction for it's features to work.
It has been designed as an "always on" system and once set-up only needs to be maintained when new activities, appointments or photos etc need adding. The end user does not have to do anything other than occasionally look at the display to benefit from it - there is no other interaction required.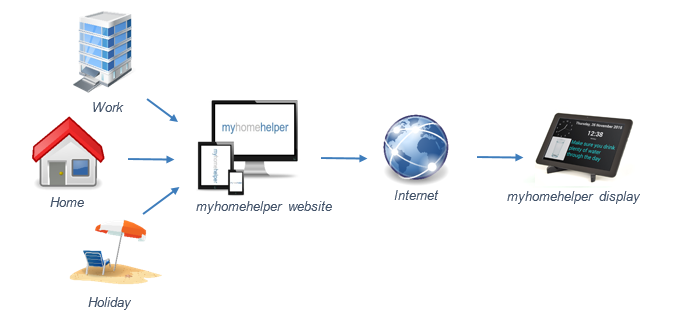 The myhomehelper control panel
The myhomehelper control panel is accessed via the myhomehelper website providing a simple set-up system allows you to the tailor the myhomehelper display to suit individual needs. The control panel can be accessed by family from anywhere that has access to an internet connection - be that at home, work or even on holiday.